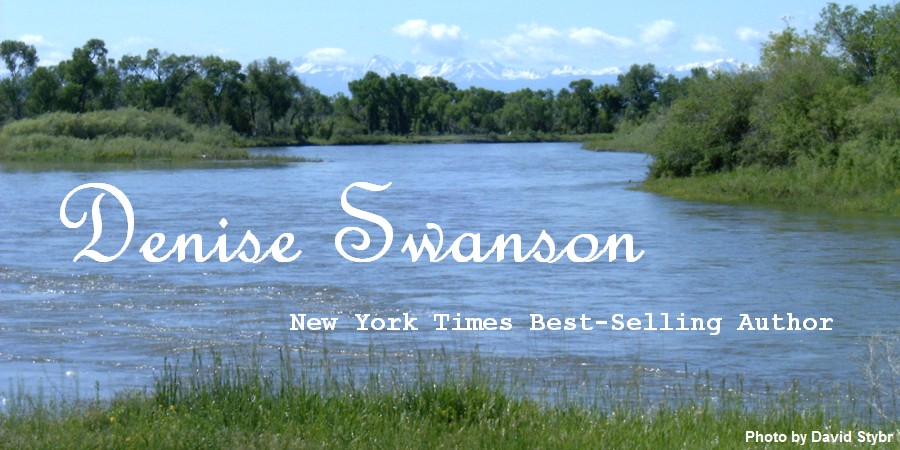 Links and Press Kit

Subscribe to Denise's e-newsletter!


Scumble River Mysteries
Welcome Back to Scumble River
Chef-to-Go Mysteries
Devereaux's Dime Store Mysteries
— Where to Buy







Denise Swanson:
The Right to Bear Charms (Forever Charmed, September 2022),
Resurrection (Apocalypse, December 2021),
Body Over Troubled Waters (Welcome Back to Scumble River, July 2021),
Fly Me to the Tomb (Devereaux's Dime Store, April 2021),
Chili Chili Bang Bang (Chef-to-Go, September 2023),
Delicious Romances (November 2018),
Change of Heart Romances (March-October 2015).
To download file: Right-click a selection, then select "Save Target As"

Downloadable Press Kit in MS-Word DOC files: Press Release

Synopsis: The Right to Bear Charms


---

Synopsis: Resurrection


---

Synopsis: Body Over Troubled Waters
Synopsis: Fly Me to the Tomb


---

Synopsis: Chili Chili Bang Bang
Synopsis: Delicious


---

Synopsis: Change of Heart
Reviews
Bibliography
Biography

Photos in JPG files:

Best-Sellers Lists in PDF file:


Cover: The Right to Bear Charms

---

Cover: Resurrection

---

Cover: Body Over Troubled Waters

---

Cover: Fly Me to the Tomb
Cover: Chili Chili Bang Bang

---

Cover: Delicious

---

Cover: Change of Heart
Author Photo:
Denise Swanson
New York Times Best-Sellers Lists
Return to Top
Subscribe to the Denise Swanson e-newsletter

for quarterly or semi-annual updates about her books and events, plus occasional recipes and other news!



Write to Denise at ScumbleRiver@aol.com with Subscribe in the Subject line and your own E-Mail Address, First Name and Last Name in the Body: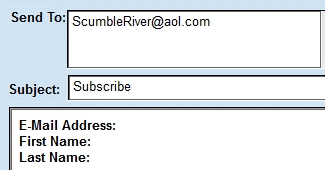 Sample: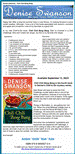 Privacy Policy: Your name and e-mail address will be used solely to receive Denise Swanson's e-newsletter. It will not be used for any other purpose.
Music: Shadow Bend Suite by David Stybr
1. Devereaux's Blues for Jazz Quartet (1 minute).
Music: Scumble River Portrait by David Stybr
1. Scumble River Legend, a Ballad for Small Orchestra (1 minute). How many book series have their own signature music? It's quirky, but so is Scumble River, Illinois.
2. Lazy River Waltz, for Woodwind Quartet and Piano (1¼ minutes). The Sun dawns on another slightly out-of-kilter day in Scumble River, Illinois.
3. Rolling River Rag, for Piano (4 minutes). Rags were inspired by the Ohio, Missouri and Mississippi Rivers, and now Scumble River too.
4. Prélude to a Muse (and to Amuse), a Passacaglia for Rock Band, Percussion Ensemble and Harp (3½ minutes), performed by Vince Denison's band Pink Elephant (and friends). (for Murder of a Pink Elephant)
5. "Bad Boys and Blondes" Bossa Nova, for Brass Quintet and Percussion (1¼ minutes). It can only mean trouble in Scumble River, Illinois. (for Murder of a Real Bad Boy and Murder of a Botoxed Blonde)
6. Dance of the Three Witches, for Organ (1 minute). Which witch is which? (for Murder of a Royal Pain)
7. Wedding Belles, for Trumpet, Organ and Bells (1 minute). (for Murder of a Wedding Belle)
David Stybr, Engineer and Composer
It's Left Brain vs. Right Brain: best 2 falls out of 3.
( http://www.DeniseSwanson.com/Stybr )
Created 25 December 1999 * Updated 13 September 2023
© 2023 Denise Swanson * Der Webmeister: David Stybr
This web site is purely for entertainment and information purposes. We hope that you enjoy our simple yet informative format.