Back * Home * Next * Commentary * Scores
David Stybr: ContraBassooNova for Contrabassoon and Piano (3:00)

Click the score to see and hear audio versions

Click the score to see and hear audio versions
Return to Top
David Stybr: Engineer and Composer
It's Left Brain vs. Right Brain: best 2 falls out of 3
ContraBassooNova for Contrabassoon and Piano (3:00)
Right Brain: "After my Theme and Variations in G Minor for Contrabassoon and Orchestra was completed last Leap Day, that seemed like all I had to say for the contrabassoon voice. Many moons later a funny thing happened on the way to Kansas, where my wife, author Denise Swanson, had a book tour. A Brazilian bossa nova for contrabassoon and piano suddenly took shape."
Left Brain: "The music of South America has long fascinated me, as one might ascertain from my Two Brazilian Dances, and from my Tango: Summer Night in Montevideo. This bossa nova is a perfect encore for contrabassoon and piano. It is much more concentrated than an authentic Brazilian bossa nova, because it includes elements of sonata form."
Right Brain: "A musical shorthand for 'contrabassoon' is in bars 22 and 26, with German note names C-BASS — like BACH for Johann Sebastian Bach or DSCH for Dmitri Shostakovich."
Left Brain: "This encore piece was completed in October 2004 in Lawrence, Kansas. Susan Nigro performed the world première in recital at Lutkin Hall, on the Northwestern University campus, Evanston, Illinois on Thursday 12 October 2006.
Susan Nigro included my ContraBassooNova on her CD: Original Tunes for the Big Bassoon.

Ann Marie Kurrasch: A Day at the Park; Frank Proto: Little Suite for the Big Bassoon*; Elaine Fine: More Greek Myths and Harlequin Sonata; Joel Bjorling: Night Shadows* and Dreamscapes*; David Stybr, ContraBassooNova; Giorgio Koukl, Potato polca. *The works by Proto and Bjorling are for Unaccompanied Contrabassoon. On the other works, Susan Nigro is joined by Mark Lindeblad, piano.

Crystal Records CD847: Original Tunes for the Big Bassoon. Susan Nigro, Contrabassoon.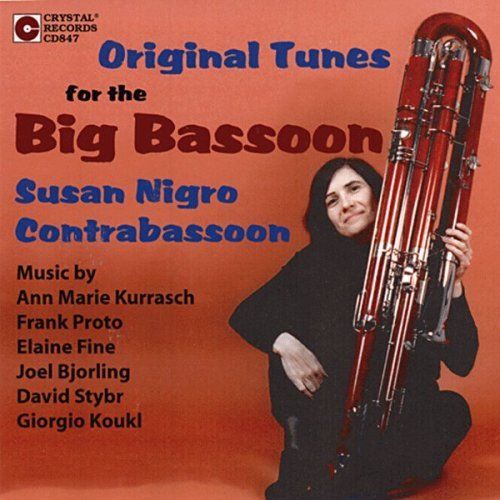 Back * Home * Next * Top * E-mail to David Stybr

© 2009 David Stybr * Updated 1 April 2009
This web site is purely for entertainment and information purposes.