Subscribe to Denise's e-newsletter!
How do you like your books?
Mysteries:
Click the cover for more info, or click the links below to buy!
Opening up a dime store in her hometown of Shadow Bend, Missouri, Devereaux "Dev" Sinclair thought she'd left the wilds of city life behind her. But she's about to discover that even rural life can be beastly. . .
Berkley $7.99
ISBN 978-0-451-47777-4
To Buy:
or
Romances:
Click the cover for more info, or click the links below to buy!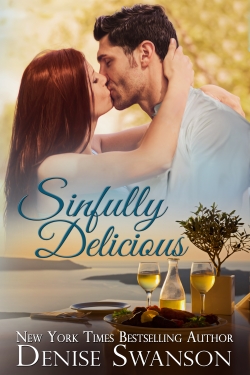 Take one smoking-hot top chef who thinks food should be a sensual adventure, add a venture capitalist who has struggled with her weight since she was a teenager, and mix well. Is this a recipe that sizzles, or is he just another craving she must resist?
ISBN 978-0-9861017-4-8 — $3.99
Available online only.
To Buy:
Personal Appearance:
Thursday-Saturday, June 8-10: Reader & Author Get Together
Holiday Inn Cincinnati Airport, 1717 Airport Exchange Boulevard,
Erlanger, Kentucky 41018 (Cincinnati, Ohio area) Web site: http://readerauthorgettogether.com
— Open-to-the-Public Booksignings:
Friday, June 9 at 3:00-5:00 PM and Saturday, June 10 at 3:00-5:00 PM
---
Return to Top
Subscribe to the Denise Swanson e-newsletter

for quarterly or semi-annual updates about her books and events, plus occasional recipes and other news!



Write to Denise at ScumbleRiver@aol.com with Subscribe in the Subject line and your own E-Mail Address, First Name and Last Name in the Body: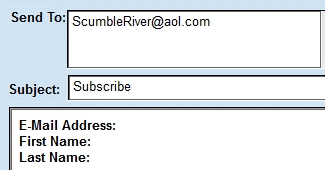 Sample: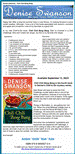 Privacy Policy: Your name and e-mail address will be used solely to receive Denise Swanson's e-newsletter. It will not be used for any other purpose.
Created 25 December 1999 * Updated 1 May 2017
© 2017 Denise Swanson * Der Webmeister: David Stybr
This web site is purely for entertainment and information purposes. We hope that you enjoy our simple yet informative format.